2 -3 December 2016 – Brunswick, Georgia – St. Augustine, Florida
We were starting to think we should plan Christmas holidays in Georgia.  Looking at the upcoming weather forecasts we decided if we don't leave today we'll be here for probably another week.
There was some discrepancy regarding today's forecast.  We were hoping the more mild wind predictions would prove to be the reality.  One forecast predicted 10 knot winds with gusts to 15, while another predicted 10-15 with gusts to 20 and seas up to 6' or a bit more.
We left the Brunswick Landing Marina around 1430 wanting to make it through St. Simon's Inlet into the open ocean before sunset and hoping to reach the sea buoy at St. Augustine, Florida no earlier than 7am with first light.  We had never navigated St. Augustine Inlet before.  The buoys are not lit and we definitely didn't want to even attempt it in the dark.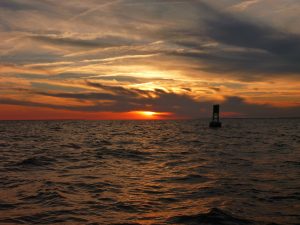 As we backtracked through St. Simon's Inlet, we kept our eyes open for dolphins.  Playful dolphin sightings have proven to be good harbingers for comfortable off shore passages. But alas, today there were no sightings.  As the sun was setting  we did see a turtle swim by, and hoped that would work as well.
The evening started quietly with calm waters and the wind directly behind us.  Knowing we needed to take it slow and average somewhere near 5 knots per hour we didn't raise the sails so we could better control our speed.  With the wind direction straight behind us, we would also have had to be careful not to jibe if the sails were up.
It wasn't long after though that the wind piped up and so did the seas.  By midnight the boat was rolling quite a bit and we decided the more pessimistic forecast is proving itself to be.  With the motion, it was hard to sleep, and neither of us really felt like eating very much.
Even with holding back the RPMs on the engine, we were making faster time than we wanted, and Bob changed our course to add some miles to the passage and go further out to sea so we wouldn't arrive at the sea buoy too early.  This change in direction meant the 6 foot waves were now coming across our beam (side of the boat) which made for even more uncomfortable motion.  The boat was rolling from side to side, and you had to hang on to something to keep your balance or be able to move about.
They were short choppy waves with a period of no more than 4 – 5 seconds between just made for an overall uncomfortable night with very little sleep.  Neither of us were having fun.
Even with the altered course we arrived before the sun, and so to waste more time waiting for the light Bob steered the boat directly into waves which would also get us into a better approach position but also continued our discomfort.  Pitching into 6 – 8 foot choppy waves with a period of no more than 4-5 seconds, made for a hobby horse motion, which at a slow speed of 1 knot was probably better than having them powering through them or taking them on the beam.
Unfortunately the motion finally got to Christina and she did everything she could to just hang on and not "lose her cookies".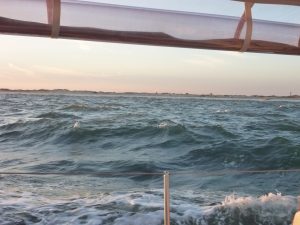 The sun finally started to make its appearance and we found our way to the sea buoy and found the channel markers, watching the path the outbound powerboats were taking. The waves were still pounding us, but now from the starboard side.  Christina was recovering and actually able to help navigate.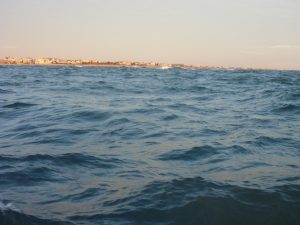 By 0800 we approached the north St. Augustine mooring field, radioed the dock master to get our assigned ball, and tied up without incident.
As Bob reached for a beer (0800 means nothing when you have been up all night and have no where to go but bed in the morning) Christina called out for one too.  Finding herself hungry from not eating much for the past 17 hours, she pulled out the donuts that were meant to be our pre-dawn treat, and proceeded to discover beer and donuts make an awesome combination for an after passage breakfast.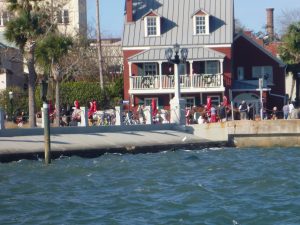 It seems like overtime we are in St. Augustine there is a parade.  Today we were able to enjoy the Christmas parade from our mooring.  
We ultimately did not take that planned nap, but instead went to town using the free water taxi to find a place for lunch – enjoying some great creole and etouffee at Harry's.  The historic town of St. Augustine is definitely worth seeing and exploring more, but not today.  We were back on the boat by1400 (2pm) and asleep a few hours later for a nice long quiet night.