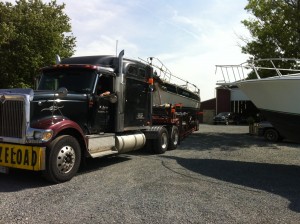 We arrived in Rock Hall, MD on Tuesday, 19 May, anxiously awaiting the arrival of Dreamtime.
She had been put on a transport truck in Canada on Friday, and had to wait for a Canadian Monday holiday (Victoria Day) before she was able to cross the border to the United States on Tuesday. The transport company kept us informed of her journey and around 1530 on Wednesday she arrived at the Sailing Emporium on her truck. Yay!!!!
It was very exciting to see Dreamtime arriving.
They got her off the truck and into the Travelift to spend the night before putting her in the water on Thursday.