1 April 2017 – The organizers of the boat rally had arranged for a bus and walking tour of Old Havana for all of the participants.
Ron and Bob took this opportunity to sip their first Cuban rums on the bus before we departed.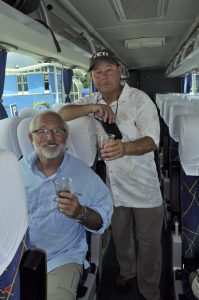 On the tours we learned much of the fascinating Cuban history which we all admitted we didn't know much about.  As walked the streets we got to see and hear the many sights and sounds that are found in Havana.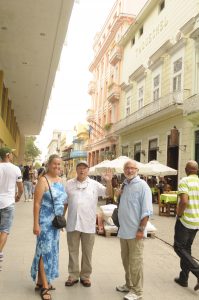 We were intrigued by the many different styles of architecture that we saw.  You could identify which buildings were truly historic, others built in the United States heyday of the 40's and 50's when the United States had very active business and trade relations with Cuba and it was a holiday destination for the USA.  Other buildings  were in stark contrast with the block style built during the Soviet era after the USA discontinued all relations with Cuba.  The mix of architecture, makes for an interesting skyline.
While many buildings were beautiful and intact, there were many that were under restoration, some damaged by hurricanes from years past.
The city is full of street vendors of all kinds and if you are lucky you will see some street performers as well.
Cuba is known for its old US cars from the 1950's and we looked forward to riding in one or two as our taxi.  Our first night we found ourselves squeezed into this little 1951 Henry to get back to Marina Hemingway.