5 & 6 January, 2017 – Fort Pierce – Key Largo Miami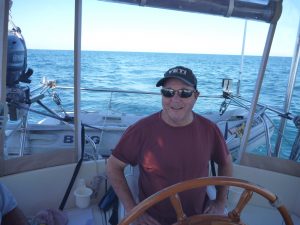 We welcomed our friend Ron on board on Monday and together started planning for our transit from Fort Pierce to Key West.
Looking at the weather, figuring an average boat speed of 5.5 knots per hour we waited an extra day due to forecast wind and rain and planned to depart Fort Pierce on Thursday, 5 January around 10am and arrive in Key Largo the next afternoon on Friday.  We would go off shore to Miami, not wanting to arrive at the sea buoy any earlier than 6:30am so we would have enough light to navigate Hawk Channel to Key Largo.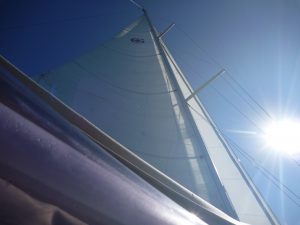 We left Fort Pierce and when we cleared the channel we turned the boat into the wind and raised the sail.  We really didn't expect enough wind to sail, but figured motor sailing would give us a bit more speed.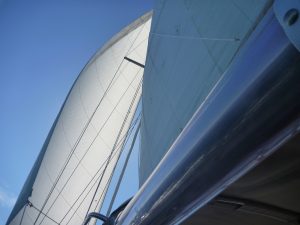 We were pleasantly surprised when the wind picked up.  With 10 knots of wind on the beam we rolled out the genoa, turned off the engine and enjoyed the quiet of sailing!  Dreamtime sails well on this tack and we found our selves moving along at 6 knots per hour.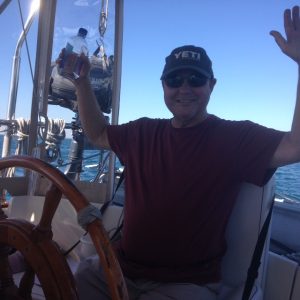 All good things must come to an end, and after a few hours of sailing the wind dropped, as did our speed, so we rolled in the genoa and motor sailed the rest of the way.
The Gulf Stream is a 62 mile (100 kilometres) wide very strong (maximum speed of 5.6 MPH/ 9 KPH) northerly flowing current that runs along the coast.  NOAA weather forecasts also include the Naval Oceanographic Office notices of how close to land to expect the Gulf Stream, this varies by day and location.  For this stretch the Gulf Stream was forecast to be 4 miles/6.5 kilometres off the coast at one point.  We are heading south and we know we don't want to find ourselves in the Gulf Stream so our passage was charted to be closer to land than we usually go and planned to be between 2 and 3 miles (3.2-4.8 kilometres) off the coast.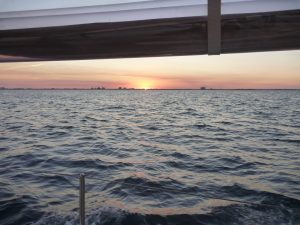 As the sun set we were making good time and exceeding our necessary 5.5 knots per hour average.  As we were passing Palm Beach our speed suddenly started to drop, and drop and drop some more.  At one point in the middle of the night we were barely making 2 knots of forward progress with the engine running over 2100 RPMs.  Our knot log indicated that it thought we were going 6 or 7 knots per hour but our actual speed was only 2.5 thereabouts.  This means we had a current of around 4.5 knots coming against us.
Seeing a large cargo ship moving closer to shore, we followed suit and at one point were less than 1.5 miles off the coast.  We gained a bit of speed, but not much.  In all the research we have done, we have never heard about this phenomenon in this stretch of Florida.  Was it the effects of the Gulf Stream spreading over its reported edge, was it the Florida Current or was it something else?  Any ideas anyone?
It was frustrating and a bit worrisome at the same time, but there was nothing we really could do except keep moving forward, albeit very slowly.
With 3 people on board we scheduled 2 hour watches with 4 hours off between.  Bob slept in the cockpit to be available if Ron or Christina needed him, which unfortunately they both did at one point or another disturbing his precious hours of sleep.  Christina first because she saw a cargo ship on radar and AIS with a closest point of approach being an uncomfortable half mile.  This was uncomfortable because she couldn't quite find it on the water until it was very close, she woke Bob up to let him know.  A problem with being so close to shore is that the lights from the land are very bright, making it more difficult to pick out shapes and lights from that direction.  It wasn't until the ship was close that we were able to make out its dark outline, steaming light and green starboard light.  This light configuration confirmed it was coming from land and going out to sea and was on track to pass astern of us, so we were never in any danger, and just another lesson.
Several hours afterwards, still well before sunrise, Ron was on watch.  He kept an eye on a cruise ship as it was preparing to cross our path to enter Fort Lauderdale harbor.  He checked AIS to see the closest point of approach would be a mile, no problem.  But then that distance kept getting shorter and shorter and shorter until it was showing the closest point would be less than a hundred feet in 10 minutes.  Ron decided to wake up Bob to inform him of this upcoming close encounter.  Bob, groggy from sleep was a bit confused thinking the ship Ron was reacting to was the same ship that we had been following before he went to sleep.  It took a few tries before Ron was able to convey to Bob that no, this is a different ship and we are going to come very close to it.  They finally figured out that the cruise ship had slowed way down and thus we were now in an almost collision course.
At about this time, they heard the call over the radio "Dreamtime, Dreamtime, Dreamtime this is Caribbean Princess – we picked up our pilot and are ready to continue into Fort Lauderdale may we have the channel?"  Bob answered affirmative telling the cruise ship we would pass astern.  The cruise ship acknowledged and confirmed he expected us to pass astern and  was preparing to make way again.  Bob altered our course to steer behind the ship and when we were about a quarter mile away the ship took off and was already far down the channel.
Yes, we like our AIS for these situations where we can see them and they can see us and we can calmly call each other by name rather than the more vague and potentially confusing alternative of "southbound sailboat to our starboard approaching Fort Lauderdale…"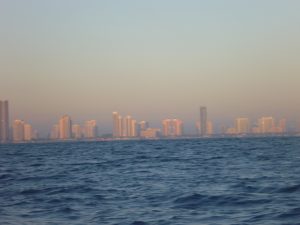 We continued on toward Miami.  Although there were times when we felt like we had cleared the adverse current, picking up speed to 6 knots, we would unfortunately find it again and slow down to 4.5.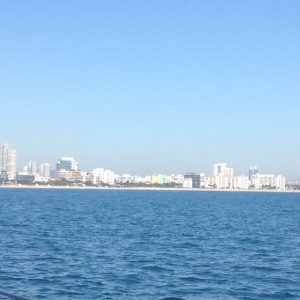 We didn't reach the Miami sea buoy until 9:30 – 3 hours later than planned.  With another 48 miles ahead of us to get to Key Largo, and not knowing if another mystery current would slow us down, we didn't think we could make it to Key Largo in daylight.  New plan – we started calling around to find a marina in Miami.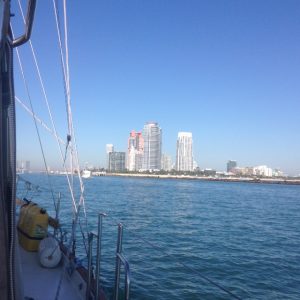 This wasn't as easy as it sounds, but after 5 calls, we found a marina with a slip available, and another marina with a fuel dock.
We entered the port of Miami with the famous South Beach on starboard, rejoined the ICW  and navigated Biscayne Bay to Dinner Key Channel.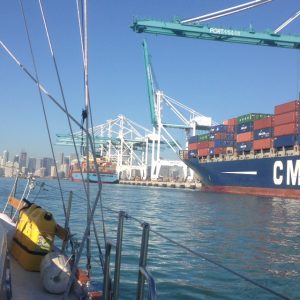 The basin was very congested with moorings and anchored boats.  With more phone calls, because no marina in this area seems to use the radio, we eventually found our way to the fuel dock and then on to our marina for the night.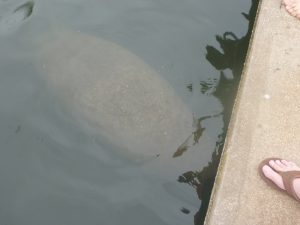 As we prepared to enter our slip at Bayshore Landing Marina we found our slip occupied by a large manatee which the dock master tried to shoo out so we could tie up without incident.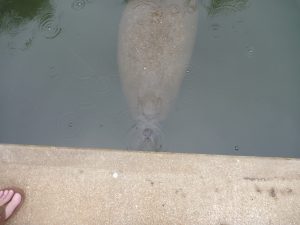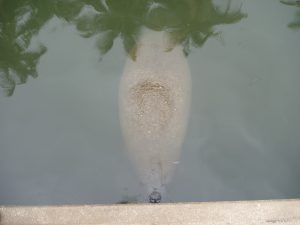 We were thrilled to find the Tiki Bar less than 25 yards feet from our slip.  Happy Hour here we come!