12 December – Titusville – Melbourne, Florida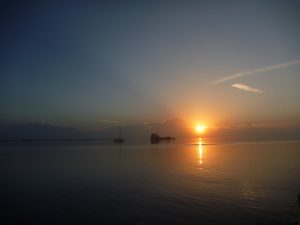 We untied the dock lines and were on the Waterway before 0700, before the sun was up but with plenty of light to navigate the channel.
Today was another quiet lovely day on the water, with many dolphin sightings along the way. We are still not getting tired of those dolphins.

Today is momentous as we passed by Cocoa Village Marina, last year's winter home,  because it means we are now further south than we have been on the ICW (on Dreamtime).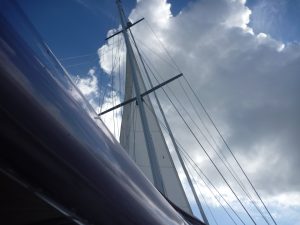 We expected the wind to be on the nose, but were pleasantly surprised when the wind shifted to the west and we were able to unfurl the staysail to gain an extra knot of speed.
As we navigated the shallow channel to Melbourne Harbour Marina our depth sounder showed uncomfortably low numbers.  The numbers kept jumping all over the place ranging from 7 feet to 10 feet to 5 feet and more.  The keel of the boat is 5 feet, and when the depth sounder shows 4.5 feet, which it did a few times, that means we should be hitting bottom.   Guess we have a new chore on the to do list while in Ft. Pierce – adjust the depth sounder.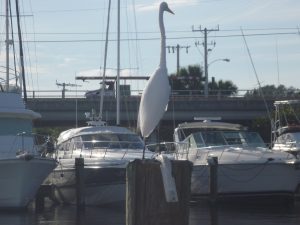 We had a quiet night at the marina and enjoyed our beautiful dock mates.