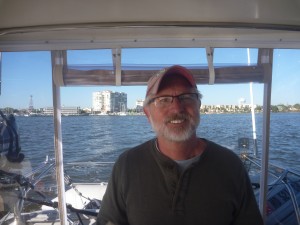 After waiting an extra day due to a cold front and strong Northerly winds, we left Cocoa, Florida on Tuesday, 23 March to begin our transit North, back to the Chesapeake Bay.
We don't anticipate the trip will take the same 8 weeks as our transit southbound was in the autumn.  But, we also don't really know how long we will be on the move.
We anticipate that this transit will entail off shore passages which will decrease the number of miles/kolometers but will also increase the number of days we may be sitting in marinas or at anchor waiting for a good weather window for going sailing.
But first, we will transit back up the Intracoastal Waterway (ICW) through Florida for the next week.
Today we left Cocoa and arrived in Titusville, FL on what was a lovely and uneventful day on the water.  It felt good to be moving again.