26 December 2015
Many people ask what do we do all day sitting at a marina.
The short answer is chores.  Everything on a boat is a bit more difficult and challenging than on land.
Bob took the opportunity today to replace 2 of the 3 fuel filters, oil filter and change the oil.
To change the filters requires removing everything from the lazarettes and then crawling in through the head.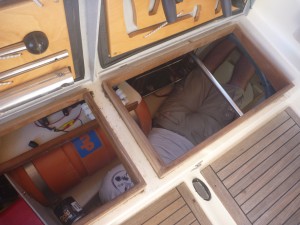 He is getting very good at doing these types of tasks in the most contorted positions.
Changing the 3rd fuel filter and replacing the impeller will wait for another day.