13 January  – Miami – Key Largo, Florida (finally)
Once we arrived in Miami the winds kicked up and didn't make the prospect of an outside passage to Key Largo particularly desirable.  And so we waited.
After a week exploring Coconut Grove (Miami), Florida we were ready to move, and finally decided to take the "inside" route.  We had not given this route much serious consideration earlier because it was known to be quite shallow in spots and we just didn't want to have to deal with continually watching our depth and dodging all the crab/lobster pots we had been warned of.
But as the forecasted winds continued to howl, we untied the dock lines and continued our way further south inside on what is still the ICW.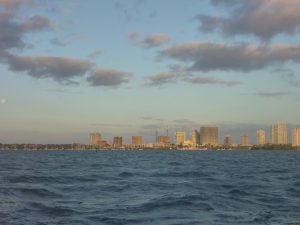 We set out at first light.  The wind was blowing 20 on the nose coming out of Dinner Key Channel and continued blowing on the beam as we made our way down the choppy Biscayne Bay.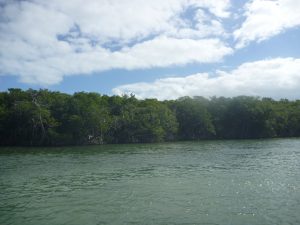 Once we got into the channel we were more protected by land and the day was really quite pleasant as we meandered past the mangroves.
It felt good to be on the move again.
This section of the ICW is not as full of passing boats as the northern sections.  Most other boats were courteous, passing at a distance or at slow speed with the exception of two cigarette boats that felt the need to pass us while approaching a narrow mangrove channel near a bridge and going what seemed to be 60 miles per hour.  There was no harm or foul, just a bit of disruption tot he otherwise peaceful day and a reminder that we are indeed in south Florida.
We tied up at one of the only two marinas on the bayside of Key Largo that has enough depth, the Anchorage Resort and Marina.  This is a funky little marina associated with a timeshare/hotel with good concrete docks, swimming pool and jacuzzi and lovely clean showers.
A tiki bar was a dinghy ride away across the ICW, but believe it or not we didn't go.  We decided to enjoy a quiet evening aboard with cheese and crackers as we plan to get up early tomorrow for a longer day to Marathon.