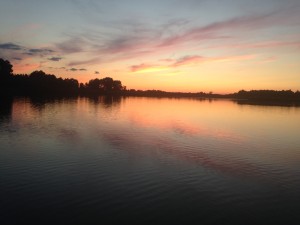 One of the joys of owning a sailboat is being able to go to quiet anchorages, drop the anchor and feel like you are alone in the world.
Just to ensure all systems for anchoring and a night at anchor were operating as expected and convince ourselves that we knew what we were doing, we decided our first anchoring experience would be relatively close to home.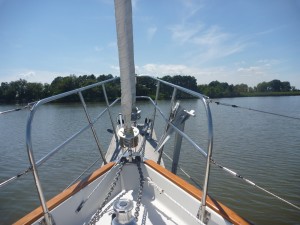 On a quiet day with no wind (…again!), we motored out of the harbor, into the bay, and "around the corner".  We navigated through another channel (where we don't mention we had grounded our charter boat 5.5 years ago – but learned that lesson well), and up Swan Creek to a small anchorage.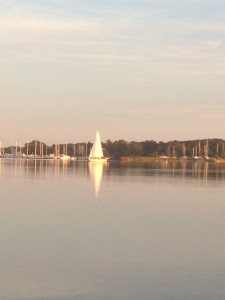 Although if you looked in one direction you could see the marina from which we chartered in 2009, by turning our focus in the other direction we felt like we were miles away from civilization.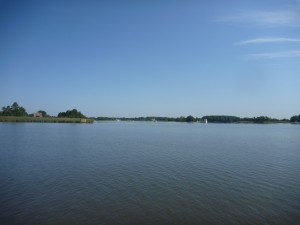 The water was calm, with no current and no wind, and all systems worked perfectly, as we anchored and lived on the hook for the night as if we were pros and had been doing it for years.  Although no wind, it was a comfortable temperature and we had a lovely evening watching the sunset and enjoying the gentle swaying of the boat.
We considered staying out for another night, but hadn't brought enough beer for Bob for two nights –  Another lesson learned.
The next morning lifting the anchor was again done smoothly and we motored back to our marina counting the experience as a success on many levels.