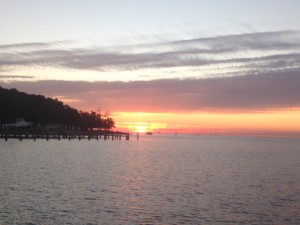 Friday – 30 October 2015 – After enjoying 3 nights in Deltaville, VA waiting out a bit of weather, we were greeted with a beautiful sunrise as we left the marina early in the morning.
The waves were big and rolly for the Chesapeake Bay, and we were rocking and rolling quite a bit the first few hours.  Bob had anticipated the trip to Hampton, VA would take 8 hours, but with a favorable current we found ourselves arriving in less than 7.
Because the wind was coming from behind and shifting between aft starboard and port, we (and most of the sailboats on the same path) didn't put out the sails and just motored the whole way.
The wind was brisk but the sun was out and warm (quite a lovely difference from the past couple of days on the water) and it all resulted in a lovely day on the water.
Norfolk, VA has a large US military presence and as we approached we found ourselves sharing the waters with a myriad of different military vessels, including a war ship and hovercraft (pictured).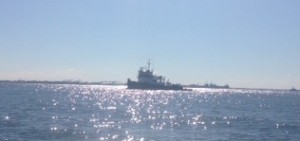 We arrived at Hampton City Pier and had the most challenging docking experience yet.  The slip was perpendicular to the deceptively strong current of the river.  It was amazing to experience first hand and to watch others as they struggled pulling in later, how the current could literally push our heavy boat completely sideways!
But after some help from the dockhand and neighbors (really protecting their own boats  from us, but being gracious about saying they were wanting to help us), we were successfully tied up no worse for wear.
(We definitely weren't the only ones the current challenged that day – When our neighbor pulled in next to us, Christina flew out of the cockpit and pushed their bow from the side of the boat so their anchor wouldn't get caught up in our shrouds.  It should never be that close.)
We shared a most excellent dinner in town and Christina suggested we stay for an extra day or two to discover more good food on the menu. But the South is calling and we will keep on moving — next stop a short trip to Portsmouth, VA before starting the ICW.