17 – 18 November 2016  — Bald Head Island, North Carolina – Charleston, South Carolina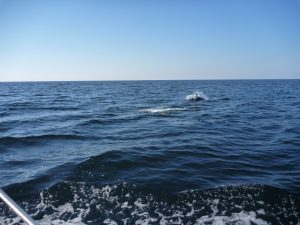 Yay!!! We scored a slip at Charleston Harbor Marina – or so we hope.  With our departure at slack water here in Bald Head, it means we will be arriving in Charleston at Max Flood  with the current ripping strong.  Getting into the marina may be challenging, but we have 20 hours to contemplate that while we are on the water.
Shortly after leaving the shipping channel we spotted breaching Dolphins on our starboard side.  They turned and headed our way.  With the boat on auto pilot, we both left the cockpit to watch the dolphins enjoy swimming in our bow wake for a few minutes.  Pretty darned cool.
Let's hope this is another harbinger for a quiet and peaceful passage.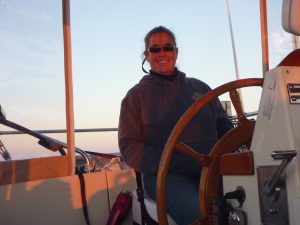 As the day wore on the water and wind got more and more calm, and motoring on the ocean was much like motoring on a quiet lake.  Although we like being able to put the sails up, we definitely don't complain about the calm days and nights either.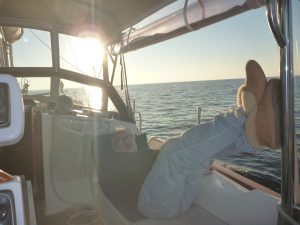 We prepared for our 2 hours on and 2 hours off watch schedule, with Bob getting rest before he would be on again.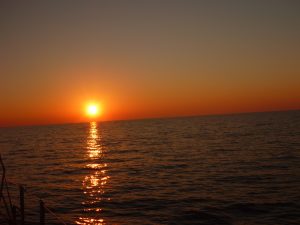 We didn't know we were about to have an awesome night of visitors.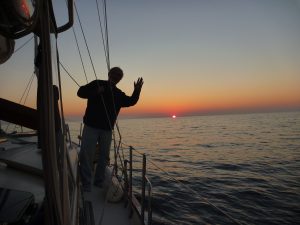 We had a peaceful and calm night.  Then at midnight, at shift change as Bob was trying to go to sleep, he was disturbed by all the noise (over the engine) and we peered over the starboard side to see a pod of dolphins frolicking alongside the cockpit.  These stayed with us for almost a half hour.
Then again at the next shift change at 2am as Christina was getting ready to lay down. we peered out and saw two dolphins half breach, as if in excitement, and then quickly come swimming over to play and swim alongside the cockpit again (they may also have been in the bow wake – but we didn't go out to see)… (It was very similar to how a dog gets excited to see someone and comes running over to play.)
Images wouldn't come out of the dark dolphins in the dark water at night so there is no footage.  We just sat and enjoyed, with Christina getting sprayed in the face as the dolphins blew through their blow holes as they passed by.    Even though they keep us awake, dolphin sightings make us smile!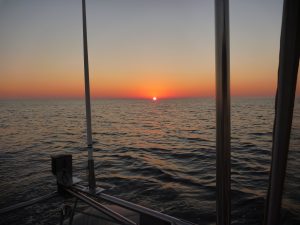 22 hours after first leaving Bald Head Island we arrived in Charleston, South Carolina at first light – along with a few more dolphins in the inlet.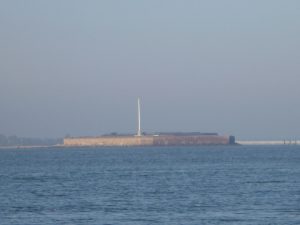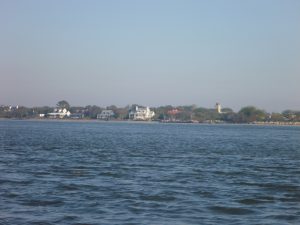 Charleston was hit hard by Hurricane Matthew and as mentioned in yesterday's post, finding room in a marina was more challenging than expected.  No marina in the city was unaffected.
The big marina with the "mega" dock (for mega boats) that boasts 19,000 linear feet of dockage and the longest free standing dock (1,530 feet) where we stayed last year at this time (and they have awesome happy hour 4 nights a week), had no room and didn't anticipate having room until early December.  Our preferred marina for location and price (not amenities) was destroyed by the hurricane and is closed indefinitely.  The marina up the river that is not close to ANYTHING walking distance and has no courtesy car to borrow was full up.  The other marina we have stayed at twice up the other river (having to time a bridge opening and the current through a narrow part of the canal) we really didn't want to deal with again was damaged and they lost their transient slips.
So, we had to "resort" to Charleston Harbor Marina & Resort, but even that we didn't know for sure until the morning we wanted to cast off the lines.  We arrived with no drama and a slip waiting for us.
This is a destination resort next to the USS Yorktown Aircraft Carrier museum we toured this past Spring.  They too were impacted and reported at least 3 boats were "totaled" due to damage from the hurricane and not all of their docks are operational (nor was their wifi evidently).
We are able to take advantage of all the resort amenities – pools, hot tubs, etc.  Only downside is you have to rely on the water taxi (which only runs on Saturday at this time of the year) or the every other hour trolley to get into town.  So it is not really convenient.
We guess we will spend the afternoon tomorrow lounging at a pool, enjoying lunch and sipping cocktails at the bar, after a morning of boat chores that include changing the oil and filling the water tanks.  Life is rough.
Monday we will head off shore again for a passage to Brunswick, Georgia.