April 2017 – In Vinales, Cuba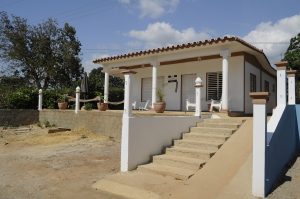 We found this fabulous casa particular on Airbnb before we left for Cuba.
Immediately upon our arrival in Vinales, we were greeted with the biggest and most welcoming smile by Sra Tata, owner of the casa particular.  
The location of this casa particular was perfect for us.  We were just a few short blocks off the busy main street making it an easy walk to find restaurants, but far enough off main street that offered a quiet respite where we were able to "get away" from the hustle and bustle of downtown Vinales. 
It was also convenient for any tours into the valley and tobacco farms as the tours all seemed to  to meet at the far end of the road.  And let's not forget the welcoming mojito bar just up the road on the way to town.
Upon arriving, Sra Tata greeted us so enthusiastically we instantly felt welcomed to her Casa Particular and home.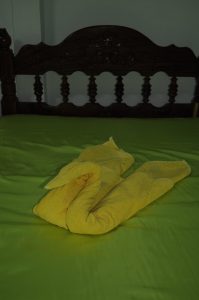 Once we were shown our rooms, we were pleasantly surprised and most appreciative of a very delightful welcome drink of chilled fresh juice.  Just what we needed after 2.5 hours spent in a 1954 Chevy without air-conditioning coming from Havana.  
We had booked two separate rooms.  Our rooms were across from each other, and shared a large table and chairs between for a comfortable place to congregate with each other.  We were pleasantly surprised to find each room had a small refrigerator which was well stocked with beer, soft drinks, and water.  We were able to refresh before and after sightseeing the town. 
The rooms were impeccably clean, showers had hot water and the the air conditioners were welcome after a hot day of exploring.   
Although Tata does not speak much English, and we speak little Spanish, communication never seemed to be a problem.  With many hand gestures, and a bit of patience we were able to have conversations.  We asked her to assist us in booking a horseback tour.  Within minutes our tour was booked for the next day, and she ensured us we would have an English speaking guide.  The guide met us outside the Casa Particular the next morning right on time.  
The next request we had was a recommendation for dinner the first night.  Again, Tata did not disappoint, and suggested what turned out to be a most lovely restaurant that was very well priced with an extensive menu.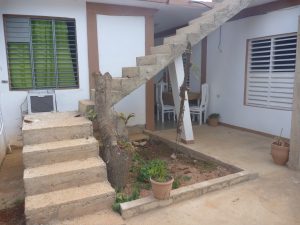 Each morning we climbed the steps to the rooftop of the casa particular where we would find a private table for four set up for breakfast.  (Nope, no hand rail to be found.)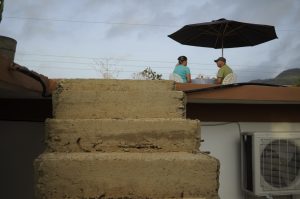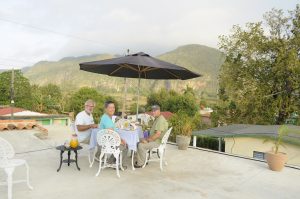 We were greeted with an abundant spread of food that included made to order eggs prepared however we each wanted (hand gestures came in handy when ordering), fresh fruit, breads, and hot beverages of choice.
Views from the rooftop.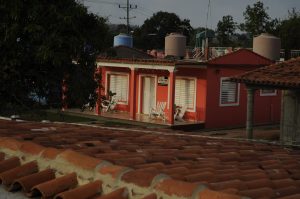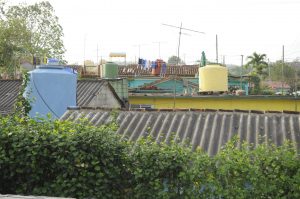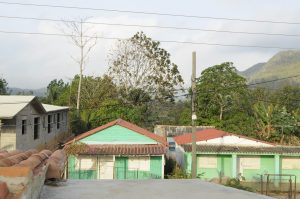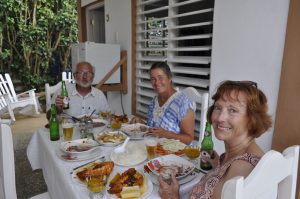 We ordered a dinner one night and can honestly say it was one of the best dinners we had during our entire time in Cuba.  With the choice of beef, pork, chicken, fish or lobster, we all chose lobster.  Served at the private table near our rooms with multiple side dishes we were offered more food than we could possibly eat, and all of it was prepared wonderfully and quite delicious.  
The Casa Particular is well laid out and offers privacy for multiple groups.  Our breakfasts were served on the rooftop while unbeknownst to us another group of 6 or more people was being served at a table in another corner of the property.  We never felt like we were sharing our space with anyone else.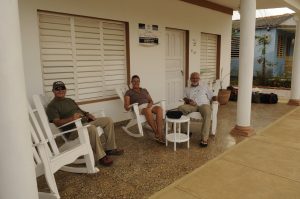 Sitting in the comfortable rocking chairs on the large front porch overlooking the quiet street is a great way to relax and watch the small quaint world of Vinales pass by.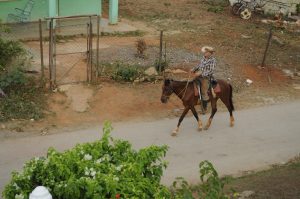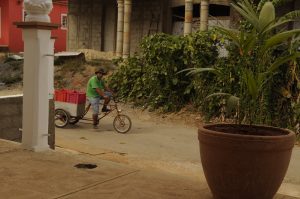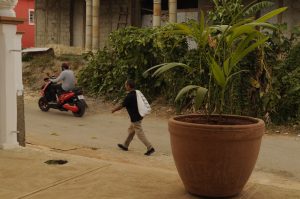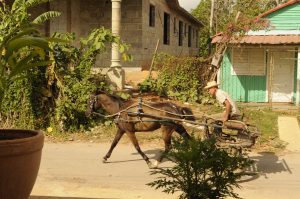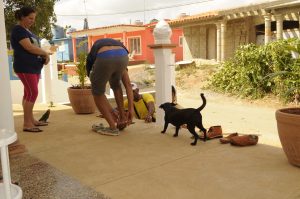 Local vendors pass by, selling their fresh produce, ice cream and even shoes to the local residents giving you a small bit of insight into what real life in Vinales may be like.