The sailing charter company, Harmony Yacht Vacations, we shared the dock with at Stock Island Marina organized a rally to Cuba in conjunction with Cruising World.  We aren't usually joiners but this time decided we didn't want to miss the the fun and joined the other 59 boats participating.
Ron and Sandy couldn't resist the opportunity of a lifetime and flew back to Florida to join us on this week long adventure.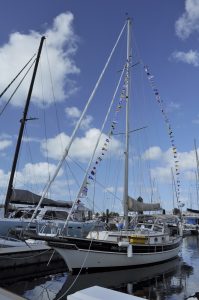 Part of the rally would include the opportunity to participate in a boat parade into Havana Harbor, where private vessels are not usually allowed.  We were told this was a big deal, and were asked to dress our boats for the occasion.  A couple of days before we left, we did a rehearsal dressing with decorative flags, just to be sure of how we wanted to do it.
The organizers arranged to stagger the departure times depending on expected speed of sailing.  As we usually calculate our sailing speed at about 5.5 knots per hour we are considered one of the slowest boats, and are scheduled to leave at 3 pm with the first group. In a best case scenario we could expect to arrive in Havana by mid morning.  The weather forecast was for "salty sailing", meaning windy and choppy conditions that were supposed to calm down through the night.
We left Stock Island in mid-afternoon, planning for an overnight passage. The winds had calmed a bit by then and we were hoping for a pleasant passage.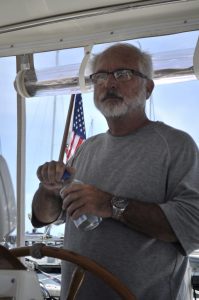 With Bob at the helm we navigated out of the channel, raised the sails and took advantage of the early wind.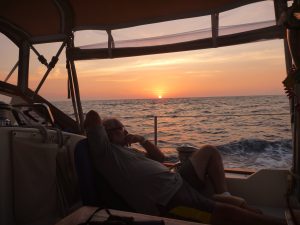 Unfortunately the wind was more fickle than forecast and died in the middle of the night, the seas got sloppy which made for a less than comfortable ride, and our arrival was many hours later than planned.  But we got there safe and in good spirits which is what matters most.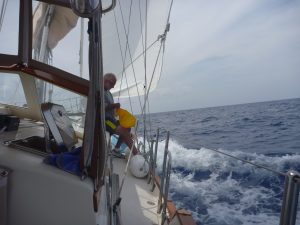 As we approached Cuban waters, Bob raised the yellow quarantine flag, signifying that we were entering from a foreign country and have not yet gone through customs.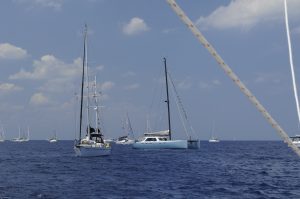 The officials at the customs dock were forewarned and prepared for the 60 boats arriving to Marina Hemingway, a very usual experience for them.  They tried to keep things moving as smoothly as possible, but still the number of boats arriving at around the same time meant we all had to wait yet another hour for our turn to enter the harbor.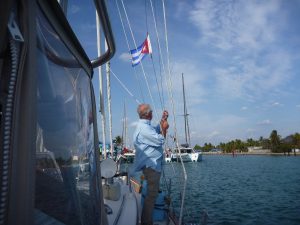 Once we were boarded and inspected by customs, Bob lowered the quarantine flat, raised the Cuban courtesy flag and we were welcomed into Cuba!